My French teacher moves a lot. She grew up in a small Swiss town and has lived in Zurich, Geneva, Paris, Berlin, NYC, upstate NY, Colorado and Santa Fe. Most recently she moved to CA and as she was packing, she she found an old coat that she has followed her to many places despite the fact that she never wears it. As someone who who travels light she considered finally letting it go, but she could not.
The coat reminds her of the dream she once had to live in Manhattan. She saw herself in this camel hair, swinging a brief case while stepping to her job as a graphic designer. She full-filled that dream long ago and was glad to move on. Yet the coat remains.
My teacher inspired me to look around and see what I cannot part with:
'Tell Me, Cat'  an old picture book, it's cover long torn off, that mesmerized me as a child, written and stitched by Ellen Fisher and Virginia Tiffany. It's photographs of cats before stitchery backgrounds that suggest what adventures each feline might have. I think I loved it because each page was a prompt sending my imagination to work rather than doing it all for me.
1967 edition of Hans Christian Andersen, my hero of fiction
a pink attaché case my older brother brought me from Harrods of London when I was an un-traveled 19 year old.
The prompt for today is:
From what is it that you/ someone you know/ your character will not or cannot part?
OR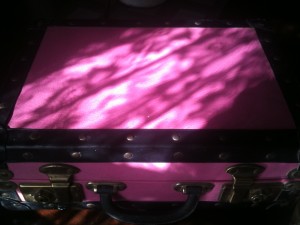 You or your character is leaving home and can take only what  fits in this pink attaché case. What is it?
Tags: Cat, creative writing, Ellen Fisher, Hans Christian Andersen, Harrods of London, memoir, Tell Me, Virginia Tiffany