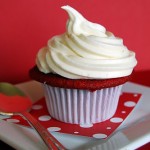 This was my first time to bring prompts and it was suggested that I keep them fairly simple. So I wrote what seemed obvious to me.
On the eve of New Year's Eve, Prompt #1 was Write something about the new year, or new beginnings. It could be your New Year's resolutions, or a new beginning for you, or a turn in your plot — some new beginning for your character.
Because we are starting a new website and blog, Prompt #2 was Write about your experience of being in this writer's group. Or write about anything involved in the practice of writing, such as how to access your own creativity.
We wrote for 45 minutes. We read. We gave feedback. We drank tea and ate red velvet cupcakes. We also spent a bit of time talking about this website, and our ideas for making it fun and helpful to other writers.
This was my favorite week so far. Later, I realized it was because everyone wrote nonfiction so I knew how to listen, evaluate, and comment. Everyone selected prompt #2 and wrote blogs, which will eventually show up here. It was fun for me to hear people writing in their own voices, instead of their characters' voices. I felt like I got to know them better. Barbara even made a list of topics she wants to blog about — I think I'll do the same.
We'll post our prompts every week, except for the first week of the month when we work on ongoing projects, which is this following week.
Happy New Year!