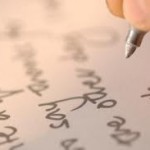 Every week I'm invited to an intimate party on Friday afternoon from 4 to 6 at Catherine's house. Seven or eight of us gather in the living room of an adobe house with hardwood floors, and kiva fireplace in the corner. Catherine makes tea, and the person responsible for that week's prompts brings food and lays it out on the antique oak table that we sit around. Homemade cookies, cheese and crackers, almonds, and chocolate (of course) sit in pretty mismatched china plates and bowls.
We check in with each other for the first few minutes while everyone is showing up, choosing a place to sit, and steeping their teabags.
"Did the runaway cat return?"
"Did your husband get back from China?"
Legs fold up underneath bodies on the couch as fingers curl around teacups, teabag tabs dangling over the edges. Everyone is settling in and getting comfortable. Then the prompts are presented–a jar of mustard, a ceramic donkey, a deck of tarot cards (select as many cards as you want), and sometimes a verbal cue, "If none of these speak to you, write about someone who is angry, but is trying not to show it." The room goes silent as everyone sits for a minute of two, deciding on a prompt. A couple of women go to other rooms with desks, but the rest of us bow our heads in silent meditation and begin to write. For the next hour, we just write. The only sound is the heat kicking on and off in about ten minute intervals. Occasionally, someone looks up for a minute, grabs a handful of almonds, and stares into space while they're waiting for the next words to come. Or their hand will stop moving across the page as they close their eyes in order to hear the voice of their character, or their own inner voice.  Within seconds, their hovering pen begins writing again.
I close my eyes and wait to hear a lead, and then begin to write. If I'm not satisfied with the direction my work is going, I stop. I close my eyes again, listen, and begin again. It's intense and focused and passionate. It's also about learning to be open and vulnerable, allowing the story to come in. If you look around the room, you can see the total physical and mental immersion. Mainly, we try to keep the pen (or computer keys) moving, mining something deep inside our souls and imaginations. Each woman has her unique process, and it's fascinating to watch.
After an hour, everyone comes back into the circle. Some of us stretch our arms, roll our necks, or shake out our writing hands, but no time is wasted. The first person begins reading her work. The moment she stops, these caring, trusted women immediately give feedback.
"What if you started the story in the third paragraph? I like that better?"
"I want to know more about your main character's feelings."
"My mind wandered during this part — could you develop it more?"
I'm new to the group. I'm not used to listening so intently. I'm hoping my listening skills will develop over time. The women banter back and forth with gentle, direct feedback.
"Oh, that worked for me. I totally got where you were going with that part of the story."
"No, I wanted more said about the orphan. It didn't make sense to me."
"Maybe it needs an epilogue."
"No, I think the story ends there. It's understood he'll go to prison for murder. He's been caught."
Opinions fly around the room freely until they're exhausted. Then the next person reads, anxious for feedback. When we've gone around the room and everyone has read (or chosen not to), two hours have passed. We've heard children's stories, young adult fiction, magical realism, a poem, and essays. And the party is over.
"Who's got the prompt for next week? No wait, it's the beginning of the month — no prompt. Just bring whatever project you're working on to read. It's Reading Friday."
Teacups are washed. We check in with each other again as we put on our scarves, coats, hats, and gloves. I leave with a feeling of fullness, grateful to have been in a room of such talented women. The familiar practice of writing grounds me, yet I feel the excitement of once again expressing myself, and maybe more importantly, being heard. I won't be listened to with this intensity until next Friday when I show up again, full of hope and excitement, to gather with my sacred community of friends and begin again.