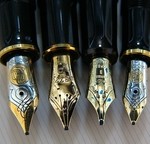 I'm a bit obsessed with writers and writing process. Well, at least, I thought I was the only one until I went to my first writing conference. Now I know that writers in general, want to know about other writer's process. We spend an unusual amount of time alone. We need to know what our peeps are doing so we feel normal.
When I meet a writer, I want to know everything. Here are some questions that come to mind. What time of day do you write? How long do you write at a time? Do you write before you get out of bed, or do you need coffee first? Do you have a daily routine, or how do you organize your day? Where do you write? Do you have an office that's like a cave, or is it filled with light? What's on your desk that you must have in order to write? Do you write privately, or in coffee shops? Do you write by hand or use a computer? What kind of pen do you use? (I want to say that last one is my favorite question, but they're all my favorite question.) What weight is your paper? Do you feel guilty that you use so much paper or have you been able to let that one go? Do you have a ritual that gets you started? Do you light a candle, meditate, do a breathing exercise, or stretch?
In my twenties, I thought of writers as having crazy, un-brushable hair, sitting at manual typewriters in a sea of wadded-up papers, chain smoking, and drinking gin, straight. However, at the age I actually started writing, it was more about hand writing everything the first time around, drinking a decaf soy latte plus trying to remember to drink all the water I could possibly stand, and stretching every once-in-a-while. Where did those stereotypes come from?
To feed my obsession, please tell me about your writing process.